The O2 Cool Deluxe Necklace Fan provides hands-free cooling with vertical airflow and a lightweight design with breakaway lanyard. Keep cool in the hot summer days everywhere you go. Necklace fan provides a comfortable yet powerful breeze.
This great personal air conditioner has been a best seller for years and we know you are going to just love it!
Measures 1" diameter x 5" high
Requires 2 AA batteries (not included)
Hangs around your neck for hands-free cooling
Provides a powerful yet comfortable breeze
Great for outdoor activities or indoors at a theater, school or sporting event
Color coordinated break-away lanyard
Hands-free cooling - Vertical Airflow
Breakaway safety lanyard
The O2COOL Personal Necklace fan is perfect for cooling on-the-go. The fan comes in a variety of colors to coordinate with your favorite work-out clothes or outfits.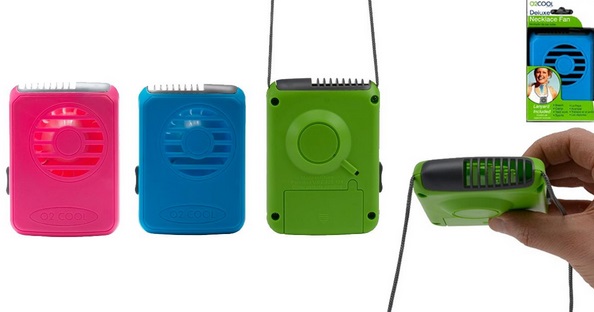 O2COOL\xCDs Personal fans are perfect for cooling on-the-go. We offer a variety of products that provides a cool breeze and misting all in the palm of your hand as well as a necklace and clip fan for hands free cooling. The fans can be carried in your purse or pocket.