The Mobile Warming Bluetooth enabled 7.4volt Company Women's Vest is designed for everyday use. From a stroll through the park to your favorite hiking trail, the Company Heated jacket keeps you warm & comfortable in any activity. The light-weight shell with Wind-Shark protection technology is engineered to keep wind, rain, & water away from your body. Powered by a rechargeable 7.4volt lithium-ion battery, the Company's large heat zones keep you warm for hours. The Company Vest allows you to change the temperature on-the-fly wirelessly. The Company Vest features our exclusive Bluetooth enabled integrated touch control button. Use the free MW Connect app to adjust temperature or check battery levels to keep you warm and comfortable all day.
The Mobile Warming Bluetooth enabled 7.4volt Company Heated Vest is designed for everyday use or high-energy activity in cold, windy conditions. The Company Heated Vest is made from a lightweight nylon fabric that keeps you warm while blocking wind, light, rain, or snow. It has stylish looks that are perfect for around town or up in the mountains. The Company is made with a light-weight 5oz 100% nylon outer shell with a quilted 2oz synthetic down core. When it comes to battling winter conditions, the Company uses our exclusive Wind-Shark Protection. Wind-Shark is a complete wind protection technology made of a combination of a breathable, windproof membrane and a water-repellent coating engineered to keep wind, rain, & water away from your body. The Company includes zippered hand-warmer pockets with plenty of room for your phone or other items. The Company Heated Vest uses our powerful yet light-weight 7.4volt Far-Infrared Heating System. The 7.4volt system has three heating elements, one on the back and two on the chest, that add heat to critical areas that keep your core warm. The Company's 7.4volt heating system can provide temperatures ranging from 135\xB0F on high to 90\xB0F on low. On high, expect up to four hours of heat. On low, the Company Vest can provide heat for up to 11 hours! The Company has two ways to adjust the temperature. First, the built-in touch control button. With a simple button push, you can select from four heat settings. Second, we've incorporated Bluetooth control with our MW Connect app. Through the MW Connect app, you can quickly toggle through all connected Mobile Warming devices and adjust individual heat levels to your liking. MW Connect allows you to get real-time updates on battery levels and update your garments when new firmware becomes available. From a stroll through the park to your favorite hiking trail, the Company Heated Vest keeps you warm & comfortable in any activity.
Features:
Stylish 5oz 100% Nylon Outer Shell
Quilted 2oz Synthetic Down Core
Rib-Knit Collar & Wrist Cuffs
Left & Right Interior Pockets
Multi-Zone Heat Elements, 2x Chest, 1x Back
Bluetooth Enabled Wireless Control
MW Connect Mobile App Compatible
Integrated Touch Control Button
4 Selectable Heat Settings
7.4volt Rechargeable Lithium-Ion Battery
Up to 11 Hours of Power Per Charge
Charge Time 3-4hours
Available in XS, SM, MD, LG, XL, & 2XL
Includes:
(1) Company Vest
(1) 7.4v 2200mAh Lithium-Ion Battery
(1) AC Charger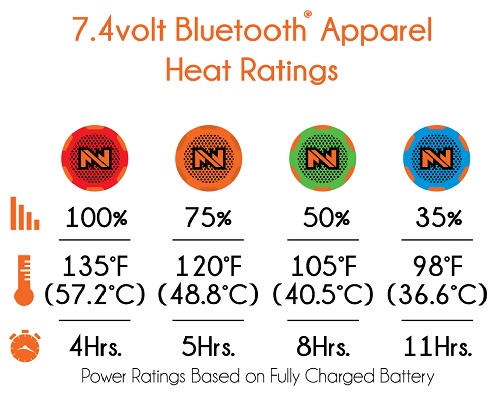 Mobile Warming products are designed with the outdoors in mind; the range of applications is wide-spread including skiing, hunting, hiking, fishing, motorcycling, golf...even work. Breakthrough technology provides outstanding levels of comfort and warmth for an entire day at the touch of a button; exceeding the efficiency of any other warming system available in outerwear today. Mobile Warming is committed to continuing to provide customers with the best quality, best priced, and best performing heated products on the market.
STAY WARM, STAY COMFORTABLE Industry Leading Heat Performance
Patented Mobile Warming technology is specially engineered for cold environmental conditions. Mobile Warming comprehensive heating solutions keep you warm and comfortable. The exclusive Mobile Warming heating system utilizes F.I.R. (Far-Infrared) heat and ultra-fine metal fiber heating elements powered by lightweight, rechargeable, and powerful Lithium-Ion batteries. As heat builds Mobile Warming advanced materials reflect and direct heat back towards the body ensuring that you stay warm. The combination of unique materials, construction techniques, and innovative design results in the most advanced heated gear available.