Gerbing's softshell heated jacket has been a bestseller for years because of its performance and durability. Now available in more colors and both Men's and Women's sizes.
The world's most advanced soft shell jacket conquers high speeds and strong winds with coreheat7 Thermovelocity Protection and multilayer wind-proofing. In-pocket heat control, water resistant weld chest pocket, telescopic cuffs and adjustable drawcord to trap heat and seal out elements round out the features.
SKU: JKCHS3
Max Heat: 135 F @ 7.7W
Power: 7V 2.2Ah li battery
Build: Wind blocking and water resistant soft shell with adjustable drawcord and weld chest pocket
Materials: Soft shell, micro poly lining
Gerbing Core Heat 7 Softshell Jacket Includes:
1 Heated Softshell Jacket
1 Rechargeable Lithium-Ion Battery
1 Battery Charger
Gerbing Core Heat 7 Battery Powered Clothing:
The Core Heat 7 thermovelocity system is powered by 7V lithium ion batteries that provide mobility and warmth for any outdoor activity. Coreheat7 garments are designed to keep you warm while hunting, working, skiing, or just walking the dog.
Gerbing Microwire Heating:
The Microwire system is the most durable and efficient thermo-technology platform ever developed. Products incorporating Microwire technology utilizes patented micro-sized stainless steel fibers intertwined and encased in a proprietary waterproof coating. Gerbing Microwire technology will provide even heating for ultimate comfort.
Gerbing Core Heat 7 Volt Battery Products Include:
Includes the battery and charger you need to power your Gerbing heated product. You may purchase additional batteries and extended-life batteries for prolonged use.
How to measure for Gerbing Jackets and Vests properly:
The measuring process is very important and will help make sure you order the correct size. The tape measure should fit snugly against the body. Remember, any Gerbing liner is meant to be worn under outerwear clothing.
Chest - Measure around the fullest area of the chest, holding tape firm and level. Hold arms out, place tape, drop arms and record measurement.
Waist - Measure loosely at your natural waistline, typically above your beltline and closer to your bellybutton.
Hips - Measure around the fullest part of seat while standing and while sitting. Record the higher number.
Outseam - Measure from the top of the waistband to the bottom of the ankle, remember pants and pant liners will lose some length when in the sitting or riding position.
Sleeve Length - Measure from the top of the shoulder bone to the bottom of the wrist bone. Measure both arms as one arm may be longer than the other.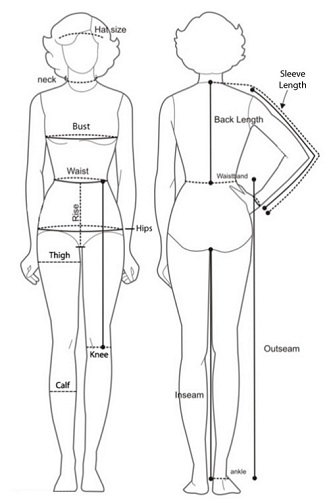 COREHEAT 7 INSTRUCTIONS - HOW TO POWER YOUR HEATED GEAR
Battery/Power Outlet
All garments come with a 7v Lithium Ion rechargeable battery and wall charger.
Additional 7v batteries can be purchased separately. Total battery weight: 4 ounces.
Each Battery has 4 settings and is indicated on the battery by a set of red lights:
100% (4 red lights)
75% (3 red lights)
50% (2 red lights)
25% (1 red lights)
The 7v battery holds anywhere from 2­8 hours of heat, depending on the setting.
2 hours at 100%
3 hours at 75%
5 hours at 50%
8 hours at 25%
Operation
Step 1: Power on by pressing and HOLDING (2-4 seconds) power button
Step 2: To change temperature, press and hold power button until LED light reflects desired setting. *Power level setting can only be indicated when connected to garment.
Step 3: Check remaining battery life by disconnecting battery from product. Press and hold power button, LED indicator will show 1­4 LED lights to indicate remaining power (4 lights is full power).
Charging Battery
We recommend charging overnight for first charge.
Charge 100% before use (a full charge takes about 3-4 hours).
A red light will appear on wall charger when charging. If light does not change or turn on, it may still be charging, so please test the battery in product after 3-4 hours.
Maintain at least 25% power when battery is not in use.
Instructions for Silicone Switches
Step 1: Plug in fully charged battery.
Step 2: Switch will cycle through settings, this indicates switch has power and can now be used.
Step 3: To power on, push and hold down button for 2­3 seconds until the switch illuminates.
Step 4: To change power setting, tap button to cycle through levels.
○Low = Green ○Medium = Yellow ○High = Red
Step 5: To power off, push and hold down button until light goes out.
Gerbing Heated Clothing Warranty: For over 40 years, Gerbing has been the leader in heating clothing technology and has earned the trust of our customers by standing by the quality and performance of our products. We continue to stand by our products because we know our customers rely on them for comfort and safety during the harshest conditions.

The Basics:


Lifetime Warranty: Our Gerbing Heating Elements & Microwire Heating System are protected forever under our lifetime guarantee.


One-Year Warranty: All non-electrical components of our clothing are warrantied for one year after purchase. In addition, our temperature controllers, electrical plugs, connectors, solder joints, and connection cables are covered for one year.


90-Day Warranty: Batteries and chargers are warrantied for 90 days after purchase.

How to file a Warranty Claim: Read the details below first to determine eligibility. Email tech@gerbing.com or call 800-646-5916 x4 to speak with a Gerbing specialist for troubleshooting and determine if your product is covered under warranty and to receive a return authorization number. Any products shipped without authorization may result in delays or potential loss of that returned item.

The Details:

Who does this warranty cover? Our warranties apply only to items purchased directly from Gerbing or an authorized Gerbing dealer. Please save your receipt as the warranty only extends to the original purchaser. This warranty covers any generation of Gerbing, Gerbing's, Gerbing's Heated Clothing and Gyde branded products.

What does this warranty not cover? This warranty does not cover any damage caused by (1) normal wear and tear; (2) improper use; (3) failure to follow the product instructions; (4) modifications; (5) unauthorized repair; (6) external causes such as accidents, abuse, or other actions or events beyond our reasonable control; or (7) customer negligence. Shipping costs for all warranty claims are the responsibility of the customer.

What is the period of coverage? The heating elements in our products (Microwire) are covered for life. This warranty covers electrical plugs, connectors, solder joints, Gerbing temperature controllers, Gerbing electrical components of accessories, and all materials, sewing, and craftsmanship for one year from the date of purchase. Batteries and chargers, including Gerbing rechargeable Lithium/NIMH battery packs and chargers, are covered by this warranty for 90 days from the date of purchase. Special care should be taken to prolong the life of your battery. It is important that you charge your battery regularly, and that you remain at least 25% of your battery power when not in use or left idle. Batteries must only be used with products with an amp rating less than the maximum capacity output rating for the battery.

What are your remedies under this warranty? With respect to any defective product during the Warranty Period, we will, in our sole discretion, repair or replace such product (or the defective part) free of charge. In the event that the product or style warrantied is no longer available, a replacement style or credit may be offered for the original product value.

What must you do to keep the warranty in effect? Our products are designed to be powered and controlled by using only Gerbing accessories and controllers. Using other manufacturers' accessories and controllers with your Gerbing product will void your warranty.

What if my problem is not covered under warranty? Some customers have worn the same Gerbing product for 10+ years without fail, but due to the durability of our patented heating system, you may have wear and tear that is not covered under warranty but can easily be fixed by our expert technicians. These issues range from fabric tears to solder joints and p
In 1975, a motorcyclist rides to work at an aeronautical machine shop. It's frigid, wet, and blustery. The faster he goes, the colder he feels. The machine shop owner and engineer is inspired; Gerbing Heated Clothing is born.

For over 40 years, Gerbing has been the industry leader in developing heating technologies to overcome cold weather conditions. The patented Gerbing Microwireª system is composed of thousands of conductive filaments 1/10th the thickness of a human hair. Each garment is controlled by a sophisticated power management & distribution system.

We were born from aeronautics, fueled by a passion for powersports, and engineered to keep you warm in the most frigid conditions.