Product Description
About Chill-Its
Sizes
Chill-Its Cooling Vests are a great way to beat the heat and stay comfortable during the hot summer months. The amazing power of evaporation provides hours of cooling comfort for work or play.
Simply activate your cooling vest in water and enjoy hours of effective cooling relief while at home or on the job.
Chill-Its Evaporation Cooling Vest:
Great for Men and Women
V-neck with zipper closure
Quilted nylon outer layer
Activated, polymer-embedded fabric inside
Water-repellent liner and black cotton-poly elastic trim
Lightweight, durable, and washable
Evaporation powered cooling
Hours of cooling relief!
Helps maintain a healthy body temperature
Great for Work or Play
Constructed with special polymer-embedded fabric
100% nylon
Chill-Its Cooling Vests keep you comfortable in the worst summer heat. The cooling vest is filled with non-toxic polymers that absorb 300 times their weight in water, then allow the water to evaporate, keeping you cool in any climate. This lightweight, durable, and washable Chill-Its vest features a unisex design with zipper closure in a variety of sizes from medium to triple extra large. Whether you are working in the scorching sun or planning on enjoying a sweltering concert or sporting event, the Chill-Its body cooling vest will provide you with hours of cool comfort.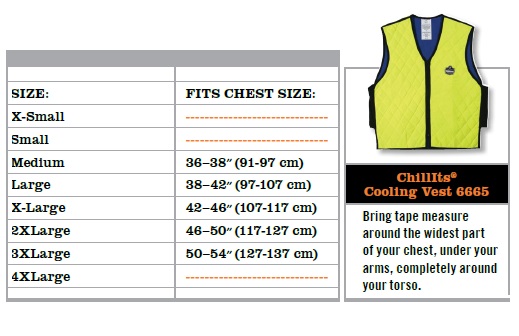 Cooling Vest Activation:
Just submerge in clean water for 1-2 minutes or until desired weight is achieved. Blot dry and cooling vest will remain hydrated for several hours. Re-activate by submerging in water as needed.
Chill-Its are a division of the powerhouse workplace safety equipment brand Ergodyne. Chill-Its products bring a frosty layer of comfort to your jobsite inferno, so you can work (or play!) longer. Why is staying cool in the heat and humidity so important? Heat stress is no joke and can result in death. You can't change the weather but using Chill-Its can help you change your approach to the heat. From neck bands to vests to wide-brimmed hats, Chill-Its by Ergodyne has the right cooling product for the hardest working people on the planet.
Size: Fits Chest:
Medium 38 - 41 Inches
Large 41 - 44 Inches
X-Large 44 - 47 Inches
XX-Large 47 - 50 Inches
XXX-Large 50 - 54 Inches