Our DonJoy Performance Trizone Ankle Sleeve is a unique hybrid design combining the properties of compression and bracing in a single sleeve. The carbonized bamboo circular knit construction allows for targeted, zonal compression with anti-bacterial and thermal regulating properties. Three distinct compression zones which include: a stability zone with strategically placed injected silicone to provide support for the ankle and the benefit of enhanced proprioception, a compression zone which improves circulation and provides mild support to the joint structure and surrounding muscle tissue, and a comfort zone that provides lighter compression for enhanced fit and better range of motion. The Trizone ankle support is a low profile performance product designed to increase ankle stability, plantar fascia support, and decrease swelling and inflammation while fitting comfortably in any shoe without compromising fit and function.
Features:
Three zones of compression strategically placed around the ankle to deliver peak performance
Silicone banding injected directly onto the sleeve adds medial/lateral support to sprained ligaments, strained tendons and weak ankles
All-natural Carbonized Bamboo is thermal regulating and anti-bacterial helping eliminate odors
Comfortably fits in all shoe types
Reflectivity for enhanced visibility in low light conditions
Product Line: Trizone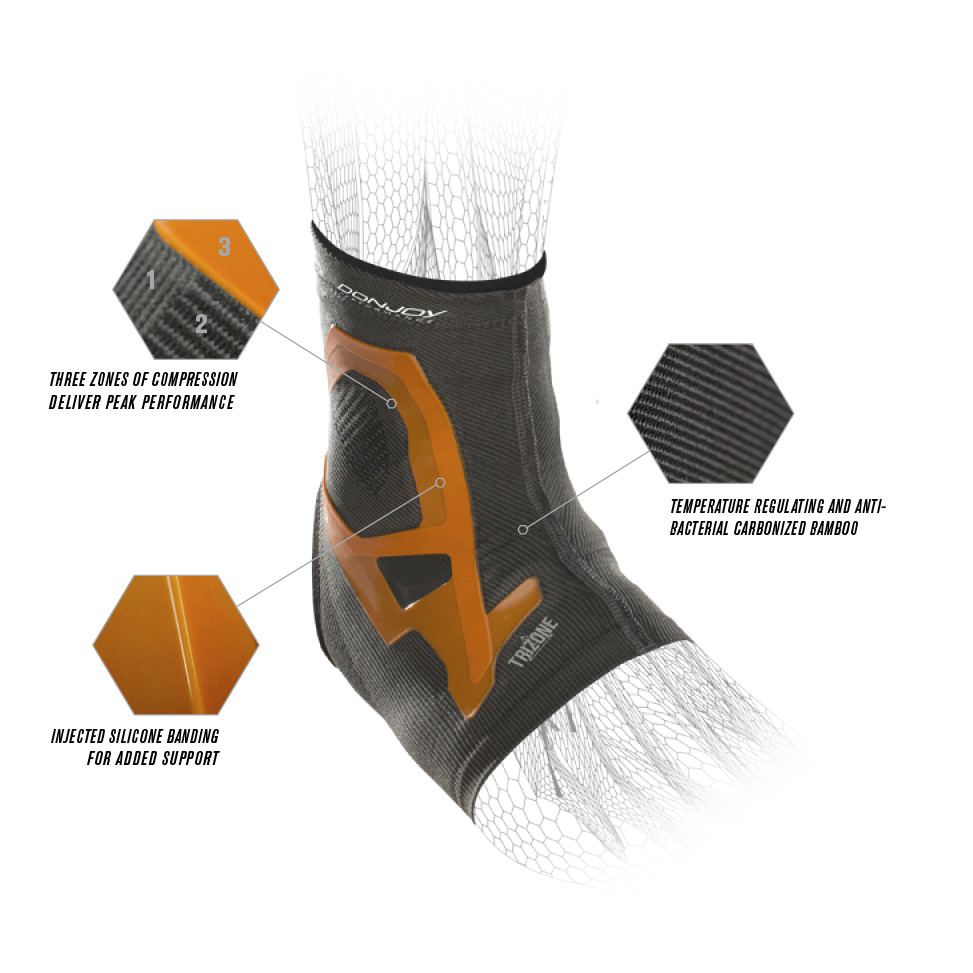 THE DONJOY LEGACY
The roots of DonJoy Performance lie in the rich sports medicine history of DJO Global, the brand\xCDs parent company. Founded as DonJoy in 1978 by Mark Nordquist, the Philadelphia Eagles\xCD offensive line captain, and Ken Reed, a local lawyer, the company started out designing and producing simple sleeves made of sewn-together neoprene that were pulled over the knee, ankle, and elbow joints for support.
Over the years, with massive medical research and development and exceptional technological innovation, DJO Global has grown to become the leader in orthopedics and orthopedic rehabilitation, offering over one thousand medical devices that help people throughout the entire continuum of care, from injury prevention to rehabilitation.
The DonJoy brand can be seen every day at the elite level of sports, with bracing, compression, and protective solutions in the training rooms and on every field of play. The world\xCDs top athletes, trainers and sports physicians have all come to trust DonJoy. And now we\xCDre happy to bring our exceptional technologies and compelling designs directly to athletes everywhere through retail and online distribution with the DonJoy Performance line.